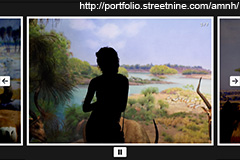 Joseph O. Holmes | AMNH
Where there are thousands of fantastic photographers there are hundreds of thousands of amateurs who have taken fantastic photographs. I've had to think a bit lately about what separates the two. Some very well established photographers have posted work up on Flickr or on their personal site that I thought – ehhh, that's okay. Likewise, some very average photographers have posted some striking photos on Flickr that draw my admiration.
What is it that gives a photo that "WOW" factor? I think it's the ability to give notice to things and move us by visuals that nearly everyone else takes for granted. It is also the ability to tell a story in a unique way, such as Carl Iwasaki's famous photo of teenagers going steady. Sometimes it's an unexpected gamble that produces a photograph, like Phitar's photo: salomé spinning. Sometimes it's just seeing a detail in the environment that others overlook.
I could try to imitate, but that only takes me as far as being a good imitator. It seems that in photography, using a fresh approach is what gives any shot the potential. That frustrates me because I feel so stale – writer's-block, inhibition, whatever you wish to call it.
Joseph O. Holmes' gallery of photos of people staring at African veldt dioramas is an extraordinary example of a good artistic result. (These pictures somehow remind me of a related Ray Bradbury
story.) It would be amazing to delve into his brain with a few questions: What made him think to do this series (AMNH)? Did he naturally envision the result and go for it, or did it strike him at the moment? Was he inspired to do this work, and if so, what inspired him? Is this an imitation of another piece of art that he's seen? Whatever his answers might be to some of these questions, I think we can all agree that he well deserves the $650 a-piece that each of these photographs sell for.